Makalu Base Camp Trek
Facts
Group Size: 1-12 people
Min. Age: 16
Grade:Strenuous
Accomodation
Group Size: 1-12 people
Min. Age: 16
Grade:Strenuous
Meals
Group Size: 1-12 people
Min. Age: 16
Grade:Strenuous
Trip Introduction
'in the heart of world fifth highest Mt. Makalu and scenic Barun Valley'
Highlights:
"Adventurous trek in the heart of world fifth highest Mt. Makalu within scenic and beautiful Barun Valley
On less trekked areas of Far North Eastern Nepal Himalaya seldom ventured by few groups of visitors
Enjoy fabulous walks to Mt. Makalu base camp facing grand mountain views within great wilderness
Scenic flight both ways overlooking uninterrupted panorama of Himalayan wide range of mountains
Trekking into rural farm villages of interesting mix cultures of both Hindu and Buddhism religions"
Introduction:
Mt. Makalu base camp trekking, a remarkable adventure where you will be walking into total isolation far from human settlement and villages for a week within complete wilderness of high mountains that surrounds you at base camp and around scenic Barun valley.
Jugal Holidays have designed this exciting Mt. Makalu base camp trekking for special adventurer and trekkers who are bored with popular Himalayan destinations, as this adventure provides pure tranquility and ambiance in the harmony of pristine environment of green rich forest to sheer arctic landscapes.
Adventure leads you to pure wild surrounding away from mainstream popular trails and away from villages that makes this trip Mt. Makalu base camp trekking worth an experience enjoying remote and high altitude walks, along with spectacular views of peaks on almost daily treks.
Mt. Makalu stands as world fifth highest peak at above 8,463 m and 27,766 ft high, first ascent by French and Swiss Expedition in May 15th 1955 where at present few mountaineers seldom climbed this high and rocky mountain, a real challenge and tough peak to climb than other 8,000 m mountains of Himalaya.
Mt. Makalu Base Camp trekking takes you around beautiful areas of Arun and Barun valleys, where some place on route trekking where rare exotic plants and herbs are found almost extinct on this planet, with dense deep forest of tall rhododendron, magnolia, oak, firs, and pine to birch trees.
During spring the high hills are covered with flaming bloom of wild flowers with various species of rhododendron which is also a nation flower of Nepal, a marvelous journey throughout the trip to base camp and back on the same scenic trail.
Starting Mt. Makalu Base Camp Trekking with sweeping panoramic short flight to reach at low-warm area in Tumlingtar town airport located within Arun River valley, where exciting drive takes you to cooler hills to begin our adventurous treks to Makalu base camp.
From Num village our walk commence with down and uphill through nice terraced farm fields heading towards the last village of Tashi-Gaon, populated by Sherpa of Makalu interwoven with Buddhism teaching and fascinating culture.
Spending overnight in the last village of Tashi Gaon then heading for a big climb into deep alpine woodland to reach at high Khoma Danda (ridge) and a pass offers grand views of Makalu, Baruntse with Kanchenjunga range in the Far East horizon.
Walk takes you to cross small passes of Tutu and Shipton-La to reach back into forested area at Mumbuk and then at scenic picturesque Barun valley, then route takes you on gradual uphill to reach our main target at Makalu base camp.
At base camp and the highest spot of our adventure enclosed by giant peaks of Makalu with Baruntse and Chamlung Himal with rare East Face views of Mt. Everest and Lhotse known as famous 'Khangsung Face', after a great fantastic views with enjoyable moments on return journey back to Tumlingtar.
Walk takes you on same scenic trail past Barun valley with climb to Khoma Dada to reach back into human settlement after a week in isolation where route takes you down and up to Num for drive to Tumlingtar where exciting short flight brings you at Kathmandu, after a most memorable adventure on Mt. Makalu base camp trekking. 
Best time and season for Mt. Makalu Base Camp Trekking:
The best time in spring season from March to May as well during autumn in September till early November months, March to May where days are warm with enough day lights cold in the morning and late afternoon till night time, can expect snow sometimes on high hills and over the pass.
An enjoyable time in spring when wild flowers are in full bloom especially rhododendron of various species from tall trees to bush with magnolia and other beautiful flowers that makes a natural garden.
September to early November best with clear fine days for views and pleasant walks but short sun-light hours due to autumn season, much colder morning till night times can expect snow sometimes during walks on higher altitude areas.
Trip Outlook:
Trek Mode:

Hotel in Kathmandu with local lodge on treks includes camping.

Trek Grade:

Moderate to Adventurous walks.

Trekking Region:

Nepal Far North East within Sanka-Sava district of Makalu zone

Highest Elevation:

At Makalu Base Camp at 4,800 m / 15,744 ft high.

Trek Duration:

16 Nights and 17 Days (with flights and drives both ways)

Total Trip:

20 Nights and 21 Days (from arrival to main departure)
Short outline Itinerary:
Day 01: On arrival at Kathmandu airport 1,340 m meet our staff and transfer to hotel.
Day 02: At Kathmandu with options for tour with time for trek preparations. 
Day 03: Fly to Tumlingtar 950 m (45 mins) drive to Num 1,490m- 04 hrs 
Day 04: Trek to Seduwa 1,460 m – 06 hrs. 
Day 05: Trek to Tashi Gaon 2,070 m- 04 hrs. 
Day 06: Trek to Khoma Danda 3,470 m / 11,381 ft – 06 hrs.
Day 07: Trek to Mumbuk 3,570 m – 06 hrs.
Day 08: Trek to Nehe Kharka 3,700 m- 06 hrs.
Day 09: Trek to Shersong 4, 615 m- 05 hrs.
Day 10: Trek to Makalu Base Camp 4,800 m / 15,744 ft – 04 hrs.
Day 11: Rest for acclimatization and explore around scenic points.
Day 12: Trek to Yangle Kharka 3,645 m – 06 hrs. 
Day 13: Trek to Mumbuk – 06 hrs.
Day 14: Trek to Khoma Danda – 05 hrs. 
Day 15: Trek to Tashi-Gaon – 05 hrs. 
Day 16: Trek to Seduwa 1,493 m – 05 hrs. 
Day 17: Trek to Num – 05 hrs.
Day 18: Drive back to Tumlingtar – 04 hrs.
Day 19: Fly from Tumlingtar to Kathmandu with afternoon free at leisure.
Day 20: In Kathmandu free day for individual activities.
Day 21: International departure for home ward bound.
---
---
Day To Day Itinerary
Departure from

: Kathmandu, Nepal

Arrival On

: Kathmandu, Nepal
Day 1
Day 01: On arrival at Kathmandu airport 1,340 m meet our staff and transfer to hotel.
Landing at Kathmandu and Nepal international airport, where our guide or staff receives you for short drive to your respective hotels in the hub of Kathmandu.
After checking into your nice rooms with rest after a jet-lag, and then rendezvous with other group member of Mt. Makalu Base Camp Trekking, our guide will brief you with information regarding the treks, about hotels and lodge with Nepalese culture, do's and don'ts.
Evening enjoy grand welcome dinner in typical Nepalese restaurants with various native cultures as entertainment.
Day 2
Day 02: At Kathmandu with options for tour with time for trek preparations.
At Kathmandu as free day where one can join in our interesting sightseeing tour as options, as the capital Kathmandu of Nepal steeped with historical and religious monuments of world heritage sites.
Afternoon at leisure and preparation for Mt. Makalu Base Camp Trekking, starting next morning with exciting flight and drive to Nepal Far East.
Day 3
Day 03: Fly to Tumlingtar 950 m (45 mins) drive to Num 1,490m- 04 hrs
Morning fly to Tumlingtar to start our trek, super sweeping scenic flight of 45 mins to takes you at Nepal Far East region at Tumlingtar town airport.
During air glorious panorama of mighty Himalayan peak with views of Everest, Makalu and Kanchenjunga range, on landing at Tumlingtar a nice town located on a high shelf of Arun River with warm climate, from here taking a short drive up hill within patch of Sal forest to reach at large town of Khadbari, headquarter of Sankhuwas -Sabha district within Makalu region.
From Khadbari town drive leads on high ridge past many scattered farm villages to reach into cool forest at Chichila, after Chichila drive downhill to reach another interesting farm village at Num, slowly developing into a town due to construction of motorable road from Tumlingtar and Khadbari since last ten years.
At Num transfer into a nice lodge or overnight camp in the village yard facing views of Makalu and Jaljala rocky and snow peaks.
Day 4
Day 04: Trek to Seduwa 1,460 m - 06 hrs.
Morning starts with an hour descend to a gorge of Arun River, crossing bridge with steep climb to small farm village of Ramara, possible lunch break, afternoon short climb to reach a high ridge within cooler hill at Seduwa for overnight camp.
Seduwa, a small farm village with series of rice terraces having a local primary school with small medical post, here enjoy views of snowcapped peaks and landscapes.
Day 5
Day 05: Trek to Tashi Gaon 2,070 m - 04 hrs.
After Seduwa a short day walk on gentle path to Tashi-Gaon with winding path past farm fields and to reach at Tashi Gaon, populated by Sherpa people, this will be the last village for a week on route high Makalu base camp.
Day 6
Day 06: Trek to Khoma Danda 3,470 m / 11,381 ft - 06 hrs.
From Tashi Gaon walk into forest of rhododendron, pines, oak and birch tree lines and temporary shades of cattle herder, and then start steep climb all the way to reach on top Khoma Danda (a high ridge or hill top).
Overnight camp on top Khoma rewards you with marvelous views of Kanchenjunga towards far-east and Mt. Makalu in the North.
Day 7
Day 07: Trek to Mumbuk 3,570 m - 06 hrs.
Morning catching views of peaks morning walk leads into open area past tree lines for few hours heading towards two glacial ponds of Thulo Pokhari and Sano Pokhari, (bigger and smaller), and then cross a ridge over Tutu-la pass at 4,075 meters with downhill back in trees to reach at Mumbuk for overnight camp in the midst of dense forest.
---
Route Map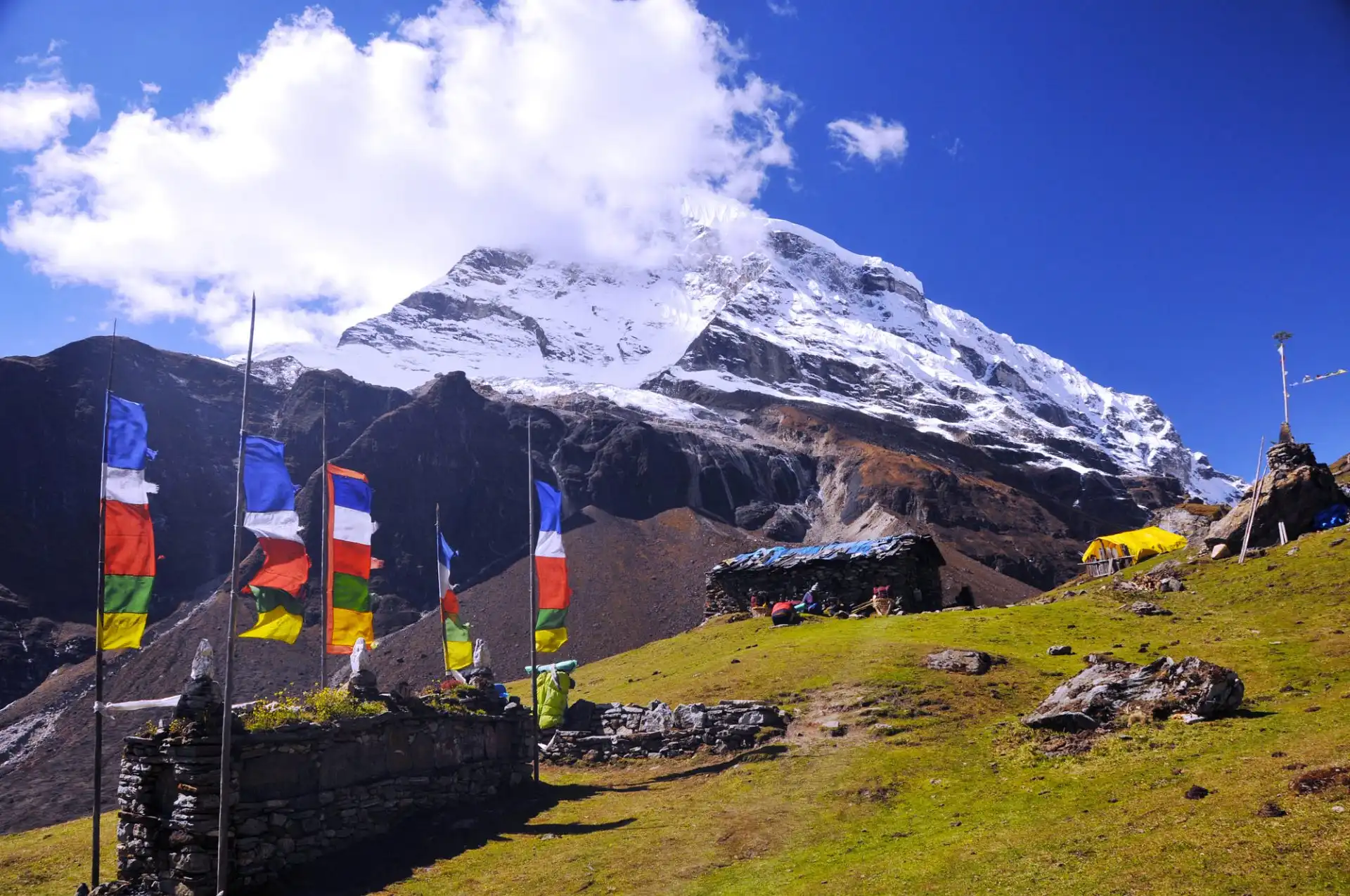 ---
Altitude Map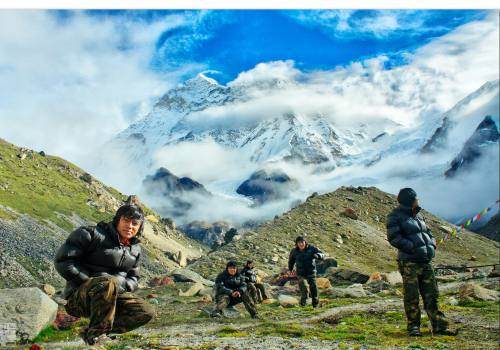 ---
What's Included
Airport Transfers
Government licensed Trekking Guide
All staff insurance, daily wages/ food
All staffs transportation, accommodation, equipment
All accommodation during the trekking local lodges, teahouses, home stay.
All meals during the trekking.
All domestic flights as mentioned in the itinerary (including domestic airport tax)
All Permits/Conservation/Parks/TIMS Fees
All necessary paper works
All ground transportation during the trekking
Transfer to and from airports (domestic flights)
Medical Supplies (First Aid Kit)
All necessary government and local taxes
All agency service charge
---
What's Not Included
Personal equipment and clothing's
Insurance: Travel, Medical, Accident, Emergency Evacuation
Alcoholic beverages, soft drinks and extra mineral water
Wi-Fi / internet using, hot shower during trek
Visa fees and international flight
Emergency rescue evacuation if needed
Tips for Staffs (driver/guide/porters)
Kathmandu city tour / Sightseeing
Welcome and farewell dinner
Personal Expenses
Cost rise of domestic/international flights due to delay, cancellation, etc.
Excess baggage charges.
---
---
Tailor Your Holiday
Everyone has their own preferences in terms of destination, journey time, and budget. As a result, sticking to our plan isn't necessary. We will create a personalized itinerary for you that includes accommodations, transportation, meals, and tour guides. We guarantee you the best Tailor-made Package because this is your trip. You have the option to personalize it, as your liking. Let us Plan together to make your Vacation worth it.
---
Fixed Departure
Fix departure coming soon
---
Why Travel With Us?
Secure Online Payment, No Credit Card Fee
Travel with Locals. Support Locals
Private & Tailor-Made Trips
24/7 International Support
Support Local Communities & Donate to Charity
Secure Online Payment, No Credit Card Fee
Trip Reviews
Lorem ipsum dolor sit amet, consectetur adipisicing elit, sed do eiusmod tempor
---